Car Loan Guide: How to Choose the Best Car Loan
In order to find the best car loan, you will need to compare different factors like interest rates, processing fees, and eligibility criteria. Read our car loan guide to learn how to choose the best car loan for you and your personal financing needs.
Table of Contents
Types of Car Loans
Choosing the right type of car loan is the first step in financing your new vehicle. Most lenders offer a range of car loans including new car loans, used car loans, loans against cars, and refinance car loans. Click below to learn more about each option.
If you are seeking to purchase a brand new vehicle, you will need a new car loan. New car loans have the most benefits of all options available, as lenders are willing to finance more for low-risk vehicles.
New car loan interest rates are charged as low as 6.50%, but can be found throughout the market as high as 15.00%. Additionally, most new car loans have long loan tenure maximums up to 7 years. As new car loans are more generous than used car loans, you will find more lenders that finance up to 100% of on-road or ex-showroom costs for new vehicles.
Used car loans are best for borrowers who wish to purchase a second hand car. Second hand car loans have less benefits than new car loans, due to the fact that used cars pose a higher risk to lenders than a brand new vehicle.
Used car loan interest rates start from 9.40%, though they can reach rates as high as 20.00% or more. Similarly, most second hand car loans have loan tenures up to 5 years and are only available for cars of a certain maximum age (3 years old, for instance). While it is possible to find 100% financing for a used vehicle, most banks finance between 60% and 90% of the pre-owned car's valuation.
A Loan Against Car (LAC) is for borrowers who wish to take out a loan against the value of their own vehicle. Lenders will finance between 50% and 140% of your car's valuation at a competitive rate. Loan tenures for LACs are as long as 5 years, though it varies per lender.
Some banks offer Takeover loans which allow borrowers to refinance their existing car loans by transferring the balance to a different lender. If you are already paying a car loan off, but seek lower interest rates or a longer loan tenure, we recommend you look into refinancing your car loan.
Car Loan Interest Rates
Most car loan interest is charged as a fixed rate, which means that the ROI will remain constant throughout your loan tenure. However, few banks offer floating rates of interest, which can rise or fall over a set duration of time. It's important to confirm this information with your lender of choice, as your car loan rate is a significant factor in determining your total cost of borrowing.
New Car Loan Interest Rate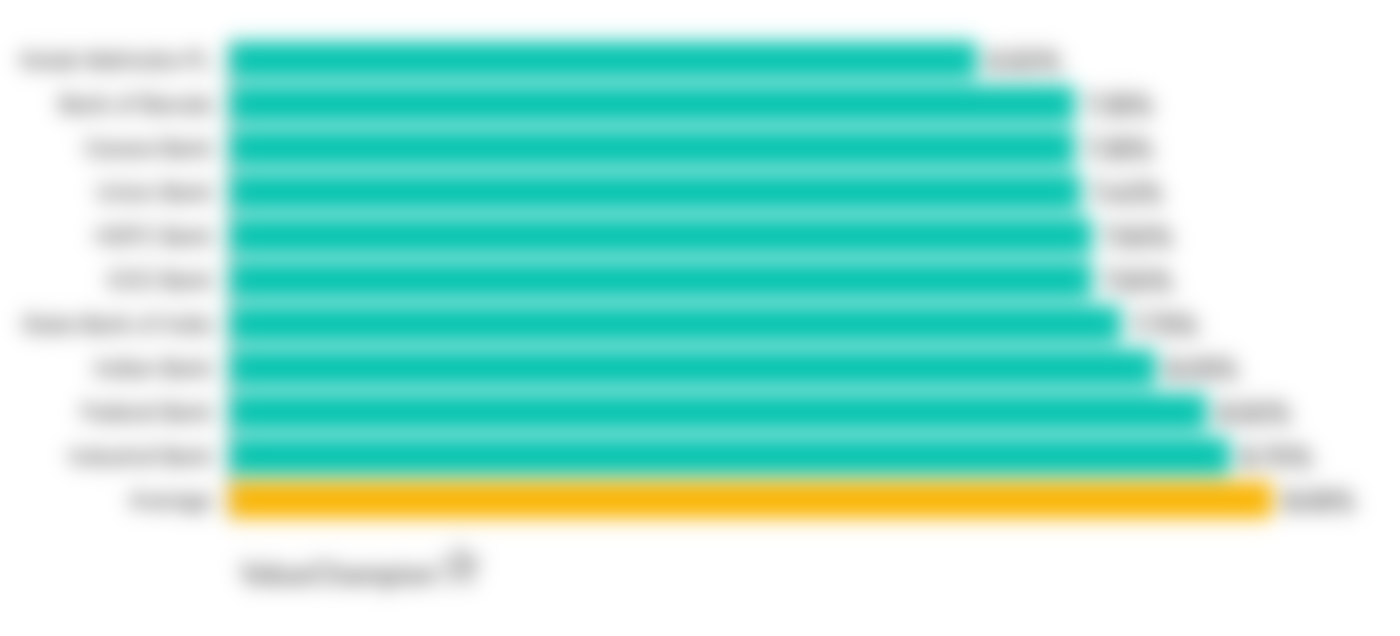 New car loans have the lowest car loan interest rates, starting from 6.50%. Our calculated average lending rate is between 7.88% and 12.13%, therefore, ValueChampion recommends you stay within this range if you are seeking a low interest car loan.
Used Car Loan Interest Rate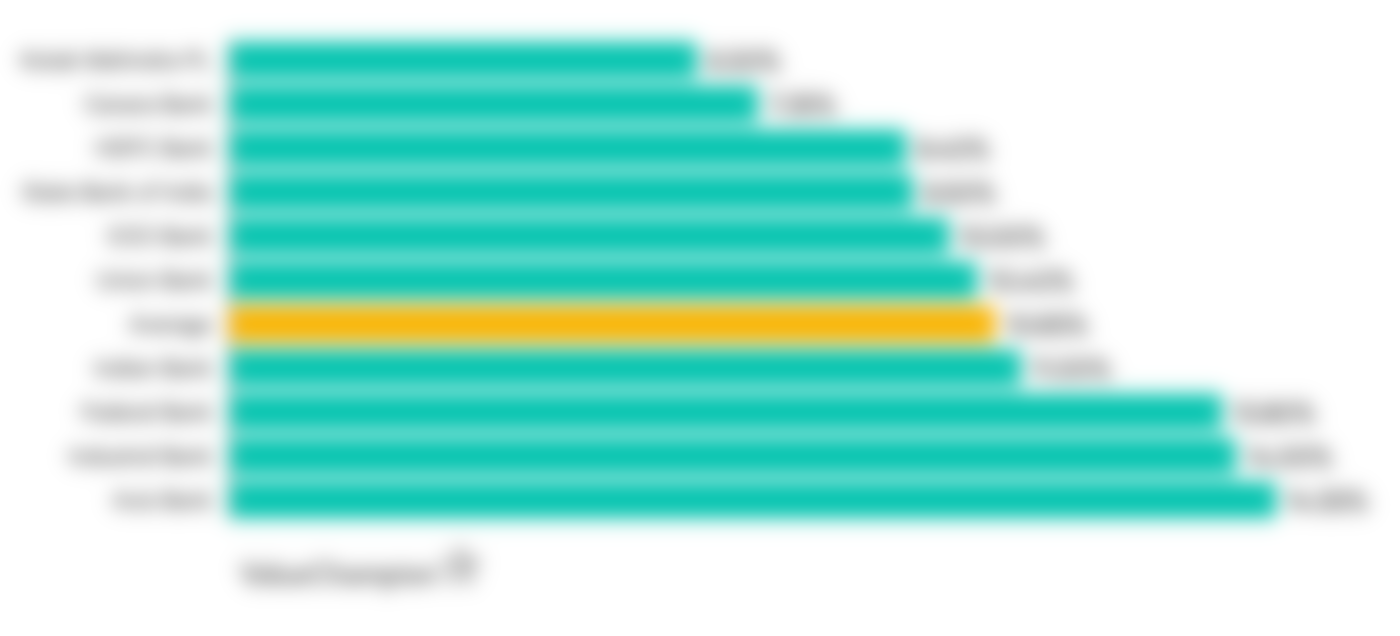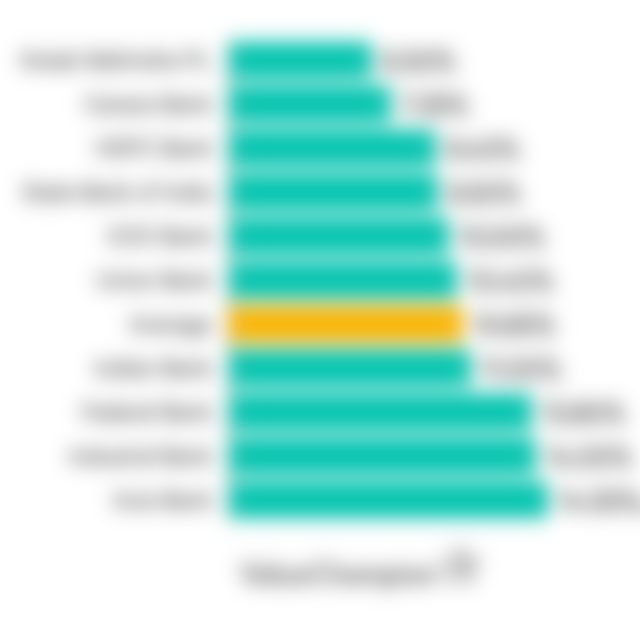 Used car loan interest rates are higher than new car loan rates due to the risk involved in financing older cars. Second hand car loan interest rates start from 9.40%, with a calculated average lending rate of 9.95% to 15.97%.
How to Get the Lowest Car Loan Interest Rate
There are a number of factors involved in determining your final interest rate. If you seek to avail a low interest car loan, we recommend you take note of the following:
Maintain and boost your CIBIL score to 700+. Your lender will look at your CIBIL score and credit history to determine your trustworthiness and ability to repay your loan.
Apply with a co-applicant or guarantor who has a good financial standing. You will be able to avail lower rates if your co-applicant has a high CIBIL score or large income.
Choose a short loan tenure for EMI repayment. Lenders charge lower interest rates on car loans with short loan tenures.
Car Loan Calculator
Car Loan EMI Calculators help borrowers estimate their monthly payments, or equated monthly instalments (EMIs). Most car loan lenders offer their own car loan calculator on their website.
By inputting your loan amount, length of the loan tenure, and interest rate, you're able to calculate your monthly car loan EMI, including the principal amount and interest amount.
ValueChampion recommends that you use a car loan EMI calculator to plan your repayments. However, your final EMI amounts are subject to change as they are determined by your auto loan lender.
Car Loan Eligibility
Car loan eligibility criteria varies per lender. In fact, you will find that eligibility criteria like age and income requirements are different for each car loan type, as well as the borrower's employment status.
Below, you can find the general requirements for car loan eligibility. However, your car loan lender of choice will have their own eligibility criteria, therefore it's important to check if you are eligible before applying for a car loan.
Car Loan Eligibility Requirements
Age Requirement
18 - 75 years
Income Requirement
Rs. 15,000 - Rs. 40,000 per month
Employment Stability
0 - 3 years
It's important to note that existing customers of the car loan lender often receive preferential pricing. ValueChampion recommends that you check with your lender of choice for any promotions or benefits.
How Do You Get a Loan For a Car?
To avail the best car loan, there are a few items you will need to consider before applying. Use our car loan checklist to make sure you are on the right track.
Car Loan Checklist
Choose Your Car
The first step in getting a car loan is deciding the brand and model of the car that you wish to finance. Whether you are seeking a new or used car, your car loan lender will determine your loan amount based on the valuation of your desired vehicle. Some lenders offer online services to help you find your perfect car.

CIBIL Score

Your credit score is a key factor in determining your car loan interest rate. Borrowers with credit scores of 700 and more will avail the lowest rates. We recommend that you resolve any errors on your credit report before applying for a car loan.

Compare Car Loans

Look for the lowest car loan rates, processing fees, and other charges like prepayment and late payment penalties. To find the best car loan, you will need to look at factors like loan tenure and margins. It's also important to look at each lender's eligibility criteria to make sure that you are eligible for a car loan before applying.

Apply for a Car Loan

You will need to decide your desired loan amount. You can use a car loan EMI calculator to determine how much you would need to repay per month. It's important that you do not apply for more than you are able to afford, otherwise your car loan application could be rejected by the lender.

Submit Required Documents

During your application process, your lender of choice will require documents for proof of address, identity and income in order to verify your ability to pay back your car loan. Additionally, you will need to submit documentation for the vehicle you wish to purchase. Some lenders have reduced documentation requirements for borrowers who do not have proof of income.