Average Cost of Two-Wheeler Insurance in India 2021
While shopping for different two-wheeler insurance policies, it is important to get an overall view of the market before making a final decision. By taking a look at the average costs and benefits offered by two-wheeler insurers, you will be able to make the best decision that fits your profile as a motorcycle rider. Typically, insurance premiums are calculated based on the type of bike that you own and the city of residence. Furthermore, a more basic insurance will always be cheaper than those that are loaded with benefits and attractive inclusions. We have analysed the average cost of different insurance plans and their benefits for you to use as you decide on your plan.
Table of Contents
Average Cost of Two-Wheeler Insurance by Motorcycle Type
A major factor that determines your two-wheeler premium is the type of bike you have and how powerful it is (measured in engine cc's). Our research found that the most popular bikes across India are in the 100cc-200cc range, which have an average premium of Rs. 4,611. Comparatively, we found that premiums for more powerful bikes (with engine cc's of 350) are 21% more costly than the typical 100cc-200cc bike. This is because the more powerful the engine, the greater the perceived risk for insuring the bike. Riding a more powerful bike can increase your chance of getting into an accident due to the increased speed the rider can ride at and price of repairing and replacing parts. For instance, the average Comprehensive plan premium for a Royal Enfield Classic—a 350 cc bike—on average charges Rs. 5,437 in Mumbai. On the other hand, a less powerful Hero Honda Splendor (a 100cc bike) has an average Comprehensive plan premium of Rs. 3,592. The premium price difference between the two bikes is noticeable, with the more powerful bike costing 67% more to insure.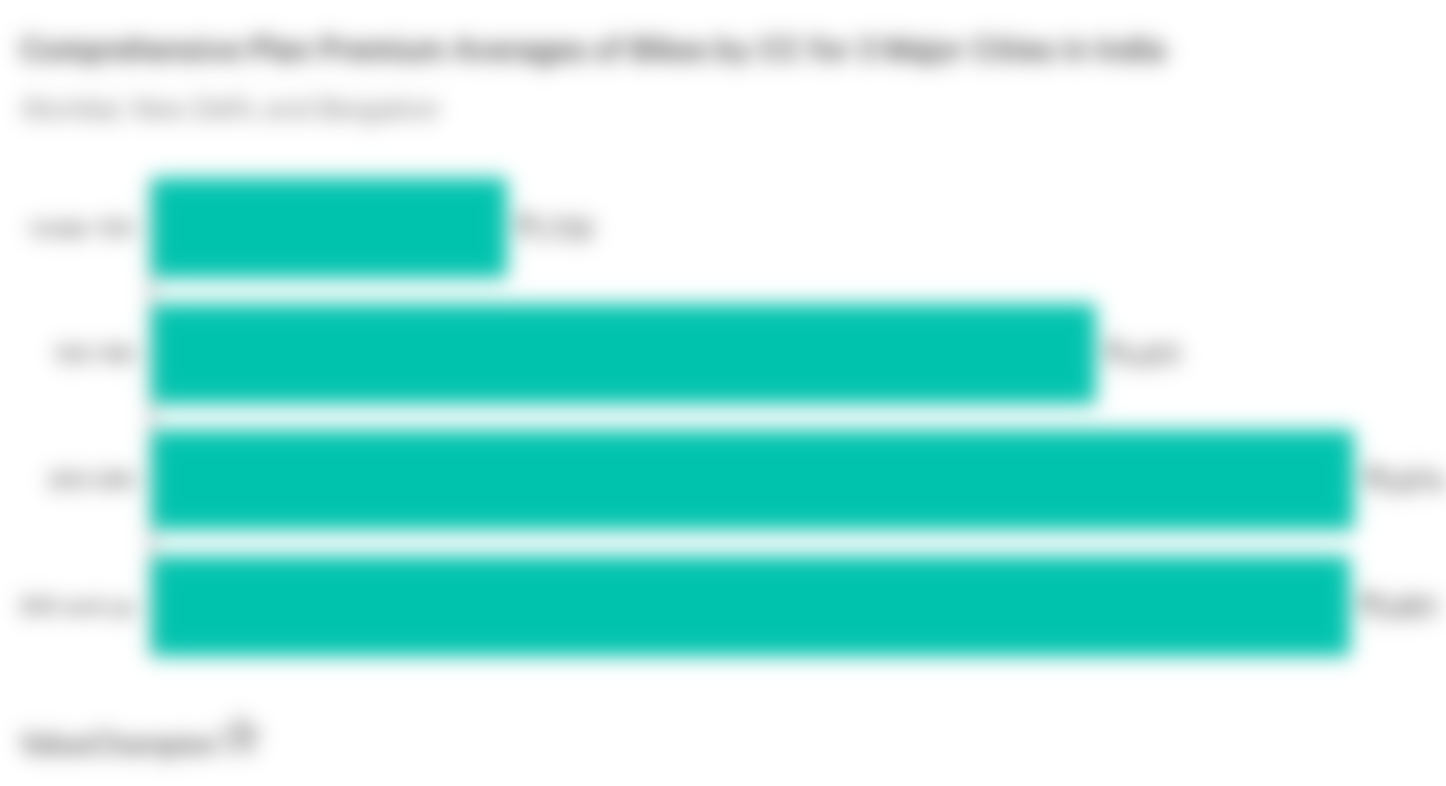 Average Cost of Comprehensive Two-Wheeler Insurance by Plan Type
The average cost of a comprehensive policy in India is Rs. 5,356 for 200cc bikes in Mumbai. Comprehensive policies provide riders with all the base coverage benefits necessary to be covered for accidents or issues with their vehicles, like personal accident coverage, damage coverage (man made and natural disasters), theft coverage, third party liability and third party loss. Some insurers like Liberty Insurance also include emergency roadside assistance.
Third Party Liability plans are the cheapest plans on the market, with an average cost of Rs. 3,456. Third Party Liability policies for a 200cc bike in Mumbai have an average premium of Rs. 1,549, 69% cheaper than the Rs. 4,959 premium you are charged for Comprehensive Insurance policies. Third Party Liability plans provide the most minimum coverage as is legally allowed for two-wheeler policies. They only provide liability coverage that can come from hurting another rider or another bike for causing an accident and without paying for any other benefits. They're best for riders who have very old bikes or for riders who use their bikes rarely and only require the most basic coverage.
Average Benefits and Add-ons of Two-Wheeler Insurance
Two-wheeler insurance plans offer many benefits that you could use to your advantage. Examples of these are personal accident coverage, third party liability coverage, accidental damage coverage, theft coverage, natural disaster coverage (earthquakes, flash floods, hurricanes, etc.), and more. Most comprehensive plans offer the base covers at 100% of value of damage or losses. Additional covers like the roadside assistance and relocation, when your bike breaks down on the road, is only offered by certain plans that typically charge a higher premium. Another benefit that can be found is relocation of vehicles to the nearest garage in case of a bike issue, as offered by United India's Comprehensive Policy.
Notably, the premium charged by a plan increases as the number and type of benefits increase. If you are interested in cheaper two-wheeler insurance, it would be better to look at policies that only include essential benefits. Further, many of the policies that offer these benefits will pay up to the full amount to cover the damages, while others will have a cap per policy period. For instance, Bajaj Allianz will cover 100% of a personal accident, but ICICI Lombard will only cover Rs. 15,00,000 under their comprehensive insurance plans.
Add-ons are also a great way to increase the coverage and benefits of a two wheeler insurance plan. Some popular add-ons include: accident cover for pillion, zero depreciation cover, and emergency roadside assistance.
| Add-on | Average Cost |
| --- | --- |
| Zero Depreciation Cover | Rs. 224 |
| Consumables Coverage | Rs. 161 |
| Accident Cover for Pillion | Rs. 151 |
| Emergency Roadside Assistance | Rs. 129 |
Methodology
To best analyse the motorcycle plans in India we focused on 10 different insurers in 3 different cities across the country with a variety of engine cylinder capacities. We conducted our research on insurer premiums in Mumbai, New Delhi, and Bangalore with engine cylinder capacities ranging from under 100cc to 400cc. We decided to select these three cities in particular because they are extremely populated and have many bike riders. Furthermore, the insurance plans were more applicable to these cities as they are known to be major cities in the nation. In terms of cc, we selected the most popular bike range in terms of sales. This gave us the best sample size for our research and helped us narrow down the average cost of the different insurance plans and benefits that are offered.